The following post is written by Matt, owner of loudestminds.com:
So let's talk about that alcohol problem you definitely don't have.
Chances are if you suffer from mental illness you also suffer from some kind of substance abuse. My personal best friend vice of choice is booze. Also taco bell. But let's just talk about the booze thing for now.
After I was diagnosed with bipolar disorder, I (very) slowly started to realize that I had been suffering from another disease for over a decade: the belief known to me Science as Drinks-Enough-but-Not-an-Inappropriate-Amount-of-Liquor; that's DENIAL for short.
Symptoms of DENIAL include spending enough money at the local liquor store to put the owner's kids through college, all while maintaining the belief that you simply have a social habit. Also – writing blog posts about alcoholism.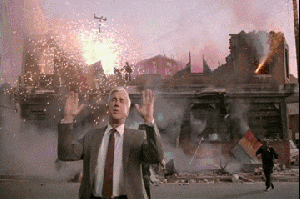 Seriously though, this is something you really should consider if you're a heavy drinker. Really look at your habits and ask yourself, do I have a problem? Am I in denial?
Well I had DENIAL big time. But I recently realized that my alcoholism was getting in the way of my long-term happiness and health, and I decided I needed to get better; I assume if you're reading this you do too (or you're at least considering it)! In order to do this though we first have to overcome our excuses and decide to get better, which I know can be terrifying!
These were the top excuses I made for my alcoholism that prevented me from getting treatment for over a decade. Do any of these sound like you?
#1. I Have a Good Job:
Yeah, you drink a lot. But you have a good job and you're providing for your family. So it's not really a problem, right?
But you're still craving that drink. You no longer want that drink, you need it. When you're not drinking you're thinking about drinking. When you're challenged in even the slightest way emotionally you feel the urge to drink.
You can be an alcoholic and still function well enough to have a good job. These two things are not necessarily mutually exclusive. Hell, I've done it my whole career.
But you know what? I'm miserable. I can't feel anything except for when I'm drinking. That's a problem.
#2. I Just Drink Socially:
Look, having a few drinks with the boys from the office now and then is not a bad thing. Hell, it can be a really good thing. It's a great way to build comradery and complain about Susan. You know who you are Susan. Every office has a Susan. Susan sucks.
But then you go home and you keep drinking. Or you need those days out. Or you're always that one. You know, that one friend who everybody looks at halfway through dinner and goes, here we go. Next thing you know you're doing karaoke and everybody's like how'd he get that karaoke machine into this Red Lobster?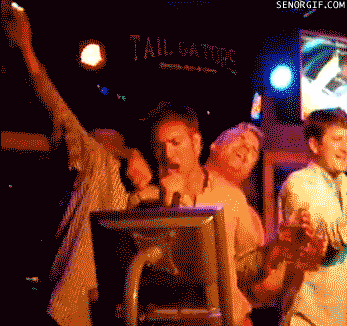 This might be a problem.
#3. My Family Isn't Affected:
First of all, yes, they probably are.
But the logic goes like this: you drink at night after the kids go to sleep. Your wife or significant other doesn't mind. You still make it to your daughter's dance recital. Nobody is affected therefore there isn't a problem.
But if you're writing a blog article, and you find a GIF that features a bunch of clearly intoxicated people singing karaoke, in which one person lights another person's hair on fire and your first thought is that looks like fun… you might have a problem.
It might be a problem if when you're with your kids you're not completely with them. Same with your significant other. You feel everything a little bit less than you should without the alcohol, and you give a little less of yourself than you should to your family. And you're just counting down the minutes until the kid's bedtime so you can get that sweet-sweet relief.
#4. I haven't hit rock bottom:
This has been my last resort excuse for years; treatment is for people who hit rock bottom – people whose drinking causes them to lose their jobs, their families, and end up in jail. Treatment is only for people who have totally destroyed their lives and that wasn't me. Therefore I didn't have a problem.
Well first of all this logic is pretty crappy. You're engaging in a level of drinking where "hitting rock bottom" is even a possibility and you're not seeking treatment because you haven't gotten there yet? Yikes.
The truth is I have been engaging in "rock-bottom" activities for a long time. Drinking and driving. Getting beligerently drunk, leaving the party, and wandering around the village in the middle of the night screaming at some invisible manifestation of my life's frustrations. Vandalizing private property. Skipping class for a week. Passing out in a snowbank. And on and on.
The reason I haven't had that dramatic rock-bottom moment where my life suddenly stops and is changed forever is more due to luck than anything else. Nobody had seen me in any of the moments described above. If they had I probably would have been in jail or the hospital.
The truth is I've been denying the reality of my own "rock-bottoms" for years.
#5. I'm too young – college kids can't be alcoholics, drinking is just what they do:
I'm a little less than 10 years removed from college, but looking back I can say that beyond a shadow of a doubt that's when I became an alcoholic.
I've included this excuse here because I wish I had taken it more seriously then. How much better my life would be today had I addressed my alcoholism 10 years ago!
"That's just what college kids do" is a sentiment that is very much alive in our culture, and one that enabled my slide into alcoholism in the first place.
At first it was innocent enough; I'd just have a few beers to fit in and lose some of the nervous social jitters. Maybe I'd work up the nerve to talk to some girls… just normal stuff to have a good time. There's really nothing wrong with this in moderation.
The problem was that my motivation slowly changed from I'll have a few drinks at this party to loosen up and fit in to… man, today really sucked. I need a drink.
There isn't a minimum age requirement on alcoholism. If you need help, the sooner you get it, the better.
In Conclusion…
For me, alcoholism happened slowly. It started fun and innocently enough, but slowly it became a crutch I used to cope with… well, everything. It wasn't obvious to me that I had a problem at first, but I did; and I wish I had realized it sooner.
Challenge yourself and your excuses. Fight DENIAL and get help.
Matt is a husband, father, and professional who suffers from bipolar disorder. He is the owner of loudestminds.com – a place to learn about mental illness and yes, maybe even laugh a little.
Matt
Blog Owner, Warrior